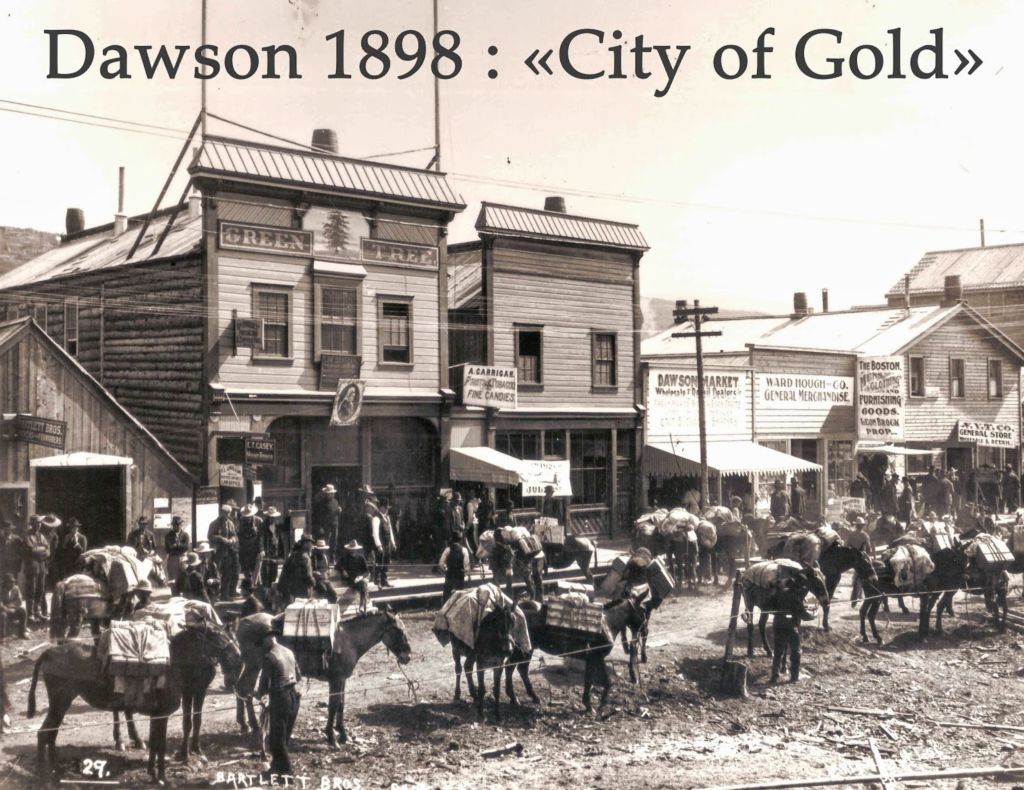 In August 1896, gold was discovered on Rabbit Creek, later named Bonanza. When word reached the outside world, the Klondike Stampede began. Over 100,000 people started out for the Klondike goldfields and some 30,000 actually reached Dawson City in the summer of 1898. At this time Dawson City was the largest centre west of Winnipeg and north of Seattle.
A modern community quickly emerged at the junction of the Yukon and Klondike Rivers. Dawson City became the supply and service centre for the miners and was capable of providing the newcomers with all that they needed from champagne to oranges.
It became obvious during the Gold Rush that there was an immediate need for the enforcement of Canadian law and the firm administration of Canadian policies. To address this issue the Canadian government established the Yukon Territory and a large civil service was soon in place. Dawson became the centre that provided the administrative and legal role for the running of a mining community and a territory.
Parks Canada Agency, Government of Canada. Dawson Historical Complex National Historic Site, 28 Apr. 2020, www.pc.gc.ca/en/lhn-nhs/yt/klondike/culture/lhn-nhs_daw
Dawson City Sourdough
The Dawson City Historical Complex commemorates the history of the Klondike, including the Gold Rush and the years that followed. Sourdough was an integral part of the harsh life of a miner during the Gold Rush. Sourdough starter was always available, either by borrowing some from a fellow miner or by starting one's own. Food was scarce in the Yukon and winters were long and lonely, so having some sourdough starter and a large bag of flour could greatly increase a miner's quality of life.
Up in the Klondike today there are people who still share sourdough starter which originally came over the Chilkoot Trail. It's a great living tradition to keep alive, so share and share alike – pioneer style!
This traditional miner's recipe has been tried and tested and is easy for you try!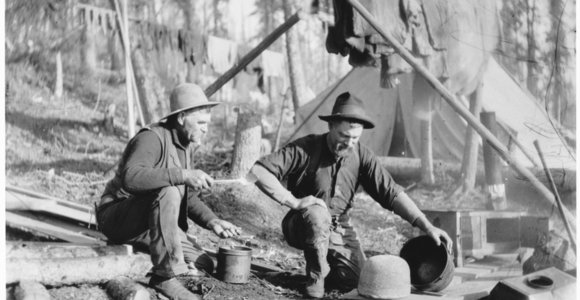 © National Archives of Canada / H.J. Woodside Collection, PA-16141
Same Steele, the legendary Mountie evicts an American gambler from the Yukon during the Klondike Gold Rush (1898). Sam Steele is one of those Canadian heroes that embodies strength, courage, and orderly power.
Check out our Pinterest board for more resources about pioneers.